lightjunction, our new fine lighting event, will be collocated with designjunction at the Sorting Office on New Oxford Street during Londonn Design Week, 18-22 September 2013
The most significant trend in lighting over the last few years has been the re-issuing of classic designs from the past. All the great architects of the 20th century created lights; they should be available to us and increasingly they are.
The Viennese company Kalmar is 130 years old, so they have extensive archives, that include works designed by Josef Frank for Haus und Garten. They have started plundering them, in order to create their Werkstätten collection. The pieces are beautifully made -- here is a closeup of one of the hooks used to suspend the light in the Dornstab (shown in the image above) that allow you to position it in the perfect position for you to read by: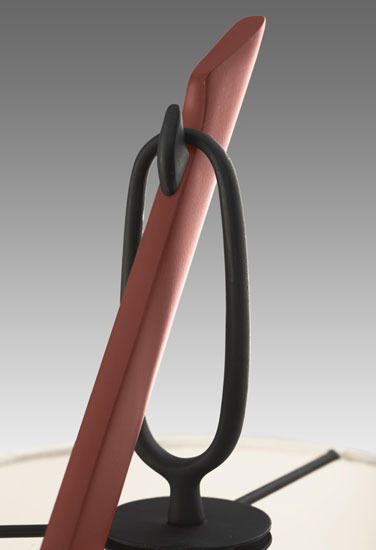 Bringing these designs back also boosts our lightjunction trend #2 (carved and polished dark woods).
Also in Vienna, Woka are one of the two most important companies to be bringing back pre-war designs (the other being Tecnolumen, who focus on the Bauhaus and Modernist designs of the '20s and '30s). They benefit from founder Wolfgang Karolinsky's deep knowledge of and understanding of the early 20th century design movements in Vienna -- e.g. the Wiener Werkstätte, the Vienna Secession and the work of Josef Hoffmann.
The quality of both the design and the production of Woka items mean that they are for true connoisseurs. For example, when part of the Palais Stoclet was reconstructed at the Lower Belvedere for last year's exhibition Gustav Klint/Joseph Hoffmann -- Pioneers of Modernism, it was Woka to whom they turned to recreate the ceiling lights.
Here is their beautiful AD7 wall light in polished brass and glass, an anonymous art déco design from 1926:
It can be nickel-plated -- or, because they do all the work themselves in their own workshops, they can make special versions for you.
But some of the finest 20th designs are in the collections of Scandinavian lighting companies.
&Tradition have Verner Panton's Flowerpot in two sizes, 13 different colours and finishes, and in various typologies (floor, table, wall). They look fabulous on their own, of course...
...but they are also particularly well-suited to being hung in groups:
&Tradition's collection also includes this pendant from Jørn Utzon (who designed the Sydney Opera House)...
...and this reading light (there are wall and table versions too), Bellevue, from Arne Jacobsen:
The more you study Bellevue, the more realize that it is perfect (yes!): powerfully functional, elegant lines and nothing to be added and nothing to be taken away. To anybody designing a reading light subsequently, its very existence must be as demoralizing as the music of Monteverdi is to subsequent composers.
What are the other Scandinavian lighting companies doing?
Well, Carl Hansen is producing The Pendant by Hans Wegner (he of, inter alia, the Wishbone chair)
It is adjustable up and down, using the good solid handle integrated into the design, that protrudes at the bottom.
Northern Lighting  Has brought back Sven Ivar Dysthe's Butterfly light of 1964:
There is also a copper version -- see our post about this light here.
Finally, Fritz Hansen have only one light in their collection -- but what a corker! It is Kaiser Idell Luxus by Christian Dell, the German silversmith who ran the metal workshop between 1922 and 1925, when the Bauhaus was in Weimar. Here it is:
A post on 20th century classics is always going to have fantastic images of lights in it but, nevertheless, what a great note to end on. IMHO.
And there are other typologies! Here's group of them, chatting at a party: